| | |
| --- | --- |
| Paul Rosato 1st Place | Anthony Valerio 2nd Place |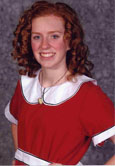 Brooke as Annie
Two of our alumni recently performed in the lead roles in their respective high school musicals. These demanding roles required poise, confidence, and a great deal of practice.
High school senior Brooke Biloholowski ACS '03 played the title role in the Cardinal McCarrick High School production of "Annie."
High school junior Alexander Mosko ACS '04 played the lead role of "Seymour" in the St. Joseph High School Theater Company production of "Little Shop of Horrors." Two former students, juniors Rebecca Castro ACS '04 and Joan Kuchie also had major singing and dancing roles.
And to think, they got their start in our Chimetteers and Glee Club!
| | |
| --- | --- |
| | |
| Alex as "Seymour" (on the right) being interviewed | Joan (left) and Rebecca (right) as Seymour mugs for the camera! |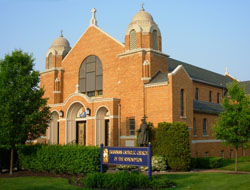 Cleaned and restored brickwork
In anticipation of the 100 year jubilee, our parish church has been undergoing major renovations. "We are in the middle of a multi-year plan to improve the church's appearance and upkeep. We expect the projects to be finished by 2008 for our 100 year jubilee," said Father Roman.
The church brickwork has been cleaned to its original beautiful appearance and protector windows have been installed for the beautiful large stained glass windows.
In addition, new low-noise fluorescent lighting was installed, new outdoor signs were made for all the parish buildings, and the basement was waterproofed. A new confessional has been completed.
During July and August, the church interior was painted and artwork on the walls and ceiling of the nave and sanctuary were painstakingly restored.
The students will enjoy a beautifully restored church interior!
| | |
| --- | --- |
| | |
| Front entrance | Cleaned and restored steeple |
| | |
| New convent sign | New rectory sign |