50th Anniversary of ACS
50th ANNIVERSARY PRAYER
Published: October 22, 2013
Print
by Rev. Ivan Turyk

Dear Lord and Good Teacher,


We thank you for giving us the opportunity to celebrate this wonderful occasion of the 50th Anniversary of the Assumption Catholic School. At this special time we give thanks for all of you who are here present and all those who have contributed to the life and success of this school throughout the 50 years history.

We thank you for our parish priests and parishioners for providing the material and spiritual support to our school for all these years.

We thank you for the Archdiocese of Philadelphia for its distinguished spiritual guidance to our school since the founding of the school.

We thank you for the Diocese of Metuchen and their staffs for providing direction and guidance to our principals, faculty and school staff.

We thank you for the Sisters from the Congregation of the Missionary Sisters of the Mother of God, who continue to work here from the first day in 1963.

We thank you for the principals, faculty and whose leadership and dedication to Catholic schools makes our schools strong.

We thank you for parents who entrust their children to us.

We thank you for all benefactors whose generous support assists us in providing the very best for our young.

We thank you for all current students and the one who went through Assumption Catholic and now offering distinguished services to our people and our country.

We thank you for the life of those who worked and served at the school and now have departed, may they rest in peace.
Almighty Lord, as we mark and celebrate 50 years of service to this community, we also give thanks for those who have learned about you here, those who have grown in faith here and those who have made Assumption School a special place.
May the staff, parents and children always value their time and each other's efforts at this school. May they look back in appreciation and forward in hope.

Today, as we celebrate this milestone not only in the life of the Assumption Catholic School in Perth Amboy but of our entire Ukrainian Catholic Church in the United States, we we ask your blessings on us and we pray that students of the present and future generations may learn in this school to know, to love, and to serve the only true God, and to worship Him according the sacred traditions of our ancestors in the Ukrainian Rite of the One, Holy, Catholic and Apostolic Church.
We ask the Patroness of our school, the Blessed Virgin Mary, to keep us under her special protection, so that we may prove ourselves worthy of God's continued blessings for many years to come.

AMEN
---
Mr Szpyhulsky's Remarks at the 50th Anniversary of the School
Published: October 22, 2013
Print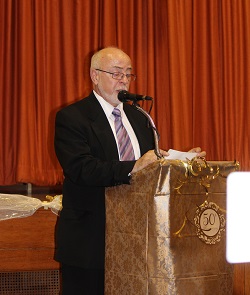 Your Grace Metropolitan Soroka, Your Excellency Bishop Bootkoski, Your Grace Archbishop Sulyk, Father Pastor, Father Roman, reverend clergy, venerable sisters, parishioners, parents, alumni, students and guests. Slava Isusu Chrystu!
Fifty years. . . Fifty years is long time. To create something from nothing and to keep it going for so many years requires much foresight and true dedication. You start with a dream, a few dollars in the building fund, and a lot of prayers. The challenge presented by Metropolitan Bohachevsky for Ukrainian Catholic parishes to build schools was taken up by then Father Pastor Yaroslaw Gabro and then Father Pastor Stephen Sulyk. The passion and commitment of these priests and the Missionary Sisters of the Mother of God must have been contagious to convince a relatively small parish to undertake the monumental task. To those parishioners that are sitting here with us today and to those that have passed, allow me to offer sincerest thanks for your hard work and dedication – hlybokyj poklen vam.

I mentioned Metropolitan Bohachevsky and Metropolitan Sulyk, but need to thank all of the leadership in the Philadelphia archeparchy over the years for their support for the school. Metropolitan Soroka, we are deeply grateful for your continued support and your taking time out of your busy schedule to grace us with your frequent visits to our school.

Since the Ukrainian Catholic archeparchy does not have an Office of Schools to provide the day to day guidance, we consider ourselves very fortunate to be in the region of the Metuchen Diocese. Bishop Bootkoski and his Schools team led by Mgsr. Corona and Dr. Ellen Ayoub have been very gracious and helpful. You exemplify true Christian values by making our school feel welcome within the framework of the diocesan schools. Please accept our thanks for all you do for our school.
Read More...
---
Sr. Yosaphata's 50th Anniversary Remarks
Published: October 22, 2013
Print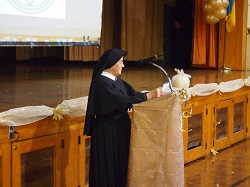 Two score and ten years ago our parish fathers brought forth in this city of Perth Amboy, a new school conceived in high expectations, dedicated to the promotion of Catholic ideals of education according to the teachings of Christ. The assignment for the Missionary Sisters of the Mother of God, "Go teach all nations".

About three years before the school's opening in 1963, President John F. Kennedy, challenged the nation "Ask not what your country can do for you, but ask what you can do for your country." The command of Christ "Go Teach" and the words of the Catholic president became the call to action for the staff of Assumption catholic School. With a slight modification, the Catholic president's words became the unspoken motto of ACS, "WHATEVER YOU PUT INTO IT, IS WHAT YOU GET OUT OF IT."

The personnel staffing this school never ask what they can get out of their labor, but focus rather on what they can do to make this school flourish and the students learn to be good Christians and supportive citizens of the country.

Read More...
---
Message from the Holy Father Benedict XVI
Published: October 19, 2013
Print
---
Message from Major Arcbishop Sviatoslav Shevchuk
Published: October 19, 2013
Print
---
Message from Archbishop Stefan Soroka
Published: October 19, 2013
Print
---
Message from Bishop Paul Bootkoski
Published: October 19, 2013
Print
---
Message from Rev. Ivan Turyk, Pastor and School Administrator
Published: October 19, 2013
Print
---
Message from NJ Governor Chris Christie
Published: October 19, 2013
Print
---
Message from Mayor Wilda Diaz
Published: October 19, 2013
Print